Our Approach
Fix Price is one of the leading variety value retailers globally and the largest in Russia, with over 5,000 stores in Russia and neighbouring countries.
We seek to deliver long-term benefits to all stakeholders: our customers, employees, suppliers, investors and the communities we work with. We strive to maximize the value we create — not just in commercial terms, but also for the environment and society. We are building a future we can be proud of.
In 2021, the Board of Directors set up an ESG Committee which assists the Board in supervising sustainability issues. The committee is in charge of managing ESG factors at a strategic level. It oversees the implementation of Fix Price's sustainability agenda and how it is integrated into the Company's business processes.
We also conducted an in-depth analysis of our ESG practices and identified four ESG strategic priorities: Product, People, Partners and Planet— the 4Ps. These are the main areas where we plan to focus our ESG efforts in the coming years.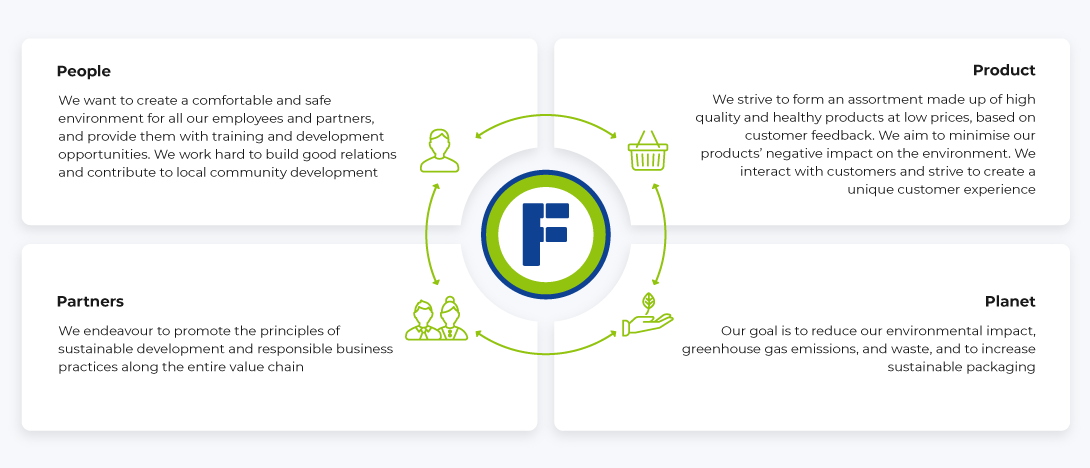 More information about the Company's key ESG data and practices can be found in the downloadable ESG databook and presentation in the ESG Results and Reports section as well as the Company's 2021 Sustainability Report and 2022 Annual Report.